Blog

Top 25 Dog Boarding Questions and Answers

Traveling with pets is among the best ways to enjoy their company. Unfortunately, taking pets along with you is only sometimes an option. Finding a reliable boarding facility for pet sitting is necessary. Family and friends are often not available to care for your pet.

You then search for a dog boarding facility near you. Before booking a guest's boarding stay, there are some questions you should ask. The questions below serve as tips for developing a dog boarding checklist.


What to Know About a Dog Boarding Kennel
How far in advance do I need to book?
Ideally, booking a dog boarding a month in advance is recommended. Securing a kennel two to three weeks in advance is usually sufficient.
Are vaccinations required?
For their protection, pets are required to have up-to-date vaccinations. At the very least, dogs should have vaccinations against kennel cough (non-core Bordetella), canine distemper, infectious hepatitis, canine parvovirus, and rabies. The canine flu vaccine is recommended but not required. Your veterinarian can supply the documentation of the pets' most recent records.
How are the dogs housed?
Our dog boarding facilities range from primary care and accommodations to luxury spa packages. Very Important Paws offers a choice of six types of suites. They house single guests and multi-guests. Options include standard and luxury boarding rooms with varied amenities for those who are okay with spending more money. The kennel selection includes:
Single Guest Standard Suite
Multi-Guest Standard Suite (Minimum of two dogs)
Multi-Guest Family Suite (Minimum of three dogs)
Single Guest Luxury Suite
Multi-Guest Luxury Suite (Minimum of two dogs)
V.I.P. Penthouse Suite
The penthouse suite is specifically designed for guests with special needs, such as high stress, anxiety, and senior dogs. It is 270 square feet in size and tastefully decorated in soothing colors. A full-size human bed, hypo-allergenic duvet and comforter, accent and euro pillows, a flat-screen T.V., nightstands, and bedside lamps are included.
The guest is involved in open daycare play during the day. A V.I.P. team member spends the night with the guest. The pet-sitting accommodations make the Suite a home away from home with a 10 PM potty break, cable T.V. and movies, decorative feeding and water bowls, and V.I.P.' Pupparazzi' photos.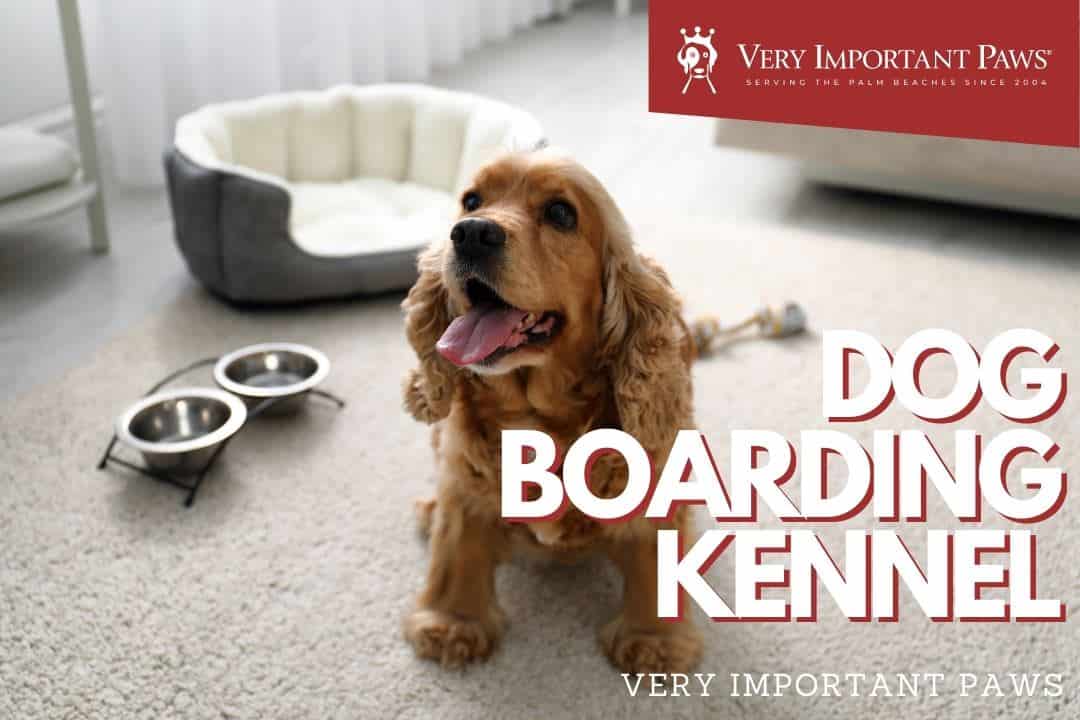 Do dogs share spaces with other dogs?
At V.I.P., dogs share communal areas during socialization and recreation. Private boarding spaces and barriers accommodate guests eating, resting, and sleeping.
Do dogs go outside?
Dogs spend time outside in the tree-lined, double-fenced area. During the day, both indoor and outdoor socialization and play take place. A staff member takes the dog out to play several times a day.
How often are the dog boarding kennels cleaned?
In addition to a daily cleaning and disinfecting regimen of the kennel, V.I.P. utilizes U.V. light, pet-safe, disinfecting technology through the air conditioning system that kills surface and airborne bacteria, viruses, and mold to ensure the dog is breathing the best possible air. Dogs are provided filtered water. We do all we can to maintain a clean and healthy environment at the kennel.
Are staff and owners certified?
The dog boarding facility is inspected and licensed annually by Palm Beach County Animal Care and Control. The staff is Pet First Aid and C.P.R. certified. We offer all-encompassing dog boarding facilities that use best practices and industry standards about kennel boarding, dog training, pet care, and animal behavior. Our close bond with your dog helps keep them well-rounded, happy, and healthy in a loving and safe environment.
What type of food is provided for dogs?
We serve made-to-order meals supplied by parents. They may bring their dog's favorite snacks and food. The meals should be high-quality, nutritious pet food with prescription diet options if a dog has a sensitive stomach or dietary restrictions.
Because the dietary needs of every dog are so diverse, we do not provide complimentary meals. You are asked to bring food for the pet's stay. Dry kibble should be packaged in individual servings in containers such as Ziploc bags or Baggies. You can also bring a measuring cup from home to prevent over or under-feeding your dog.
Please measure carefully; we cannot store large bins or bags of dog kibble. If the dog is fed wet food, it does not have to be portioned out. If you forget dog food, we offer food for purchase from our boutique. We will select what we believe to be the most suitable bag or can of food for your dog and add the charge to your bill.
How long may a dog stay?
Pets may join us for a one-night stay or stay as long as a month at the V.I.P. boarding facility.
Does the dog stay in a kennel facility all day?
Dogs stay in boarding suites rather than kennels at V.I.P. They are provided with outdoor play and recreation in communal areas also. Small guests may be placed in a crate during busy times.
What activities are provided?
V.I.P. caters to the needs of owners. We offer training for our dog boarding guests and a customized program that fits the dog's needs. Dogs in our kennels are walked often and have access to a pool to enjoy with other dogs. Ideally, guests should get to walk a couple of times per day. If not, they should have access to exercise areas a minimum of five times daily.
Trainers work with pet parents to design the ideal boarding program for a dog's stay. The dogs are offered an opportunity to address behavioral issues, obedience training, and command reinforcement.
Are tours of the facility available?
We encourage owners to tour our dog boarding facility house. You do not have to schedule an appointment to see the kennels. Tours are available Monday through Saturday from 9 AM to 4 PM. No tours are offered on Sundays.
Do you have an emergency plan in place?
We require a signed Medical Authorization form on file in case of an emergency. Our staff errs on the side of caution. If medical attention is needed, we will attempt to contact you.
To ensure the dog's safety, we take it to the nearest emergency vet. Similar to children in daycare, at dog boarding facilities, there is a risk of a dog being injured when interacting with other dogs or picking up a contagious illness and becoming sick.
We are not responsible for expenses related to treatment for an injury caused by housing or interaction with other dogs. Each owner is responsible for medical charges related to their dog's care.
What is the itinerary for the dog's stay?
Dogs enjoy as much as 12 hours of individual and group playtime on Monday through Friday and as much as ten hours on Saturday. We use a combination of physical exercise, mental stimulation, and socializing activities to keep the dog's body and mind happy and healthy.
We focus on enhancing a dog's quality of life at our kennels by introducing the dog to rewarding and fun activities. The dog is encouraged to use its senses to learn new skills and solve problems. In the process, it gains confidence. Our kennels have a low staff-to-dog ratio that provides dogs with individual attention, education, and love.
Do dogs of all sizes run and play together?
We organize small and large playgroups in outdoor and indoor areas. Our arrangement for how dogs play is meant for enjoyment in an optimal environment for their personality, comfort level, and age.
We know dogs of different ages and sizes have different entertainment needs. There are separate play areas for senior, large, medium, small, and puppy guests. With separate areas, the dogs find the activities rewarding, fun, and comfortable.
How much does boarding cost?
Charges for overnight boarding are as follows:
Single Standard Guest Suite – $57 to $61 per guest per night
Multi-Guest Standard Suite – $51 to $56 per guest per night
Multi-Guest Family Suite – $51 to $56 per guest per night
Single Guest Luxury Suite – $69 per guest per night
Multi-Guest Luxury Suite – $63 per guest per night
V.I.P. Penthouse Suite – $160 per guest per night
Are other services offered?
You can maximize the guest's boarding stay at our pet hotel. We offer a broad range of dog grooming and fantastic spa services. An experienced bather pampers the dogs with our signature mint, lavender shampoo, and conditioner.
Bathing includes a thorough blow-dry, ear cleaning, nail clipping, and a gentle massage. Dogs who stay three or more nights get an exit bath before leaving. We want your dog to smell clean and fresh when it returns from our kennels.
Our spa services include:
Aromatherapy
Ear cleaning and plucking
Extended rubdown and scratch session
Flea and tick shampoo treatment
'Furminator' de-shedding treatment
Hot oil treatment
'Pawdicure' with pet-safe nail polish
Paw trim
Teeth brushing
When can dogs be dropped off or picked up?
Check-in times are 7 AM to 7 PM on weekdays, 8 AM to 6 PM on Saturdays, and 11:30 AM to 1 PM on Sundays. Checkout is between 7 AM to 12 PM, Monday through Saturday. On Sundays, check-out is between 11:30 AM to 1 PM.
We offer discounts on half-day doggy daycare rates for guests picked up from 12 PM to 3 PM and discounts on full-day doggy daycare rates for dogs picked up between 3 PM and 7 PM. Dogs can be picked up from 11:30 AM to 1 PM on Sunday. After-hours drop-off and pick-up are made by appointment on Sundays.
Do you have insurance to cover eventualities?
Kennels need to be insured for incidents like the loss of a dog, accidental death, theft, health outbreaks, and dog illnesses.
How large is your dog boarding facility?
Our total footprint is more than 24,000 square feet. It takes up a city block from Kanuga Drive to Park Place. We have about 13,000 square feet of outdoor activity areas, a pool, and approximately 11,000 square feet of indoor space. The six outdoor areas we have are among the largest activity areas in Palm Beach County.
How secure are fences and kennels?
A double fence lined with trees makes it very difficult for guests to escape or for unauthorized people to enter.
Will the dog have access to sleeping areas and toilet facilities?
Your dog can retreat to the kennels for sleep or do his business whenever necessary.
Does the dog's kennel have webcam access?
You can check on your dog while dog boarding by calling 561-366-9000. The best time to call to check on your dog is 8 AM to 6 PM, Monday through Saturday. A webcam is an excellent idea and is becoming increasingly popular in many kennels and dog boarding facilities.
Can you keep to a dog's feeding and sleeping schedules?
We work with dog parents to design an itinerary because changes to a dog's regular schedule may cause kennel stress or anxiety.
Is the staff always present?
A dog that meets other guests in a new environment is not left alone for a minute. Our staff supervises activity areas.
Wrap-Up
There is much to take in and many questions about dog boarding kennels. Getting answers to the questions in the pet sitting interview is essential to making a wise decision for dog boarding for your pet. Leaving your dog in a boarding facility is a leap of faith.
There is no guarantee the dog will enjoy the experience; however, Very Important Paws has been spoiling pups and has been in operation since 2004. The only animals that we house are dogs. Your cat must find another boarding option. Cats require a much different boarding approach.
Contact us today!