Blog

While you were away: Changes in the Palm Beach pet world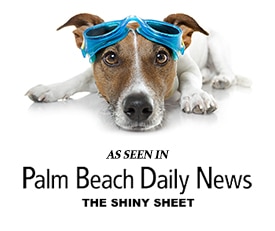 Welcome back pet lovers. While you were gone, a lot has happened in the Palm Beach pet world … new dogs, new cats, some pet parties while you were partying with people. You certainly spent the summer with them, for as Jeff Cloninger said: "Dogs and cats aren't like a pair of shoes you can leave at home in the closet while you go away." No, happily we all had ours with us.
While you probably had no problems finding a swimming pool for yourself this summer, not all of our local dogs were as lucky. Which is why it's big news that right over the bridge, at 418 Park Place, off Dixie Highway near Okeechobee, VIP (Very Important Paws) just built a dog-only pool. It's bone shaped (what else?), has a 4-foot by 12-foot exercise tank, fountain jets and a large rotating umbrella for shade. Dogs can get melanoma. So, if your dogs want to make like Esther Williams, or just need the exercise — especially if they have arthritis — call 561-366-9000.
By Paulette Cooper Noble of the Palm Beach Daily News – Shiny Sheet
[button link_url="http://www.palmbeachdailynews.com/news/news/local/while-you-were-away-changes-in-the-palm-beach-pet-/nhycs/#__federated=1″]Read the Full article[/button]