Blog

Dog Fashion for Fall

Ever looked at your pup and thought, "You'd look great in a fall-themed sweater"? Well, you're not alone! Fall dog fashion is a real thing.

I remember the first time I put my terrier, Charlie, into his new plaid bandana. He was instantly more handsome!

Fall is coming up fast – that crisp air, leaves changing colors… but what about our furry friends? Shouldn't they be part of this beautiful season too?

In this guide, we'll dive deep into fall dog fashion in Florida trends. You'll learn about essential accessories to ensure your pet looks their best while staying cozy as temperatures drop.

We also cover sizing tips for those adorable sweaters and coats, plus some DIY ideas if you're feeling crafty. So stick around – it's going to be paw-some!
Fall Dog Clothing Trends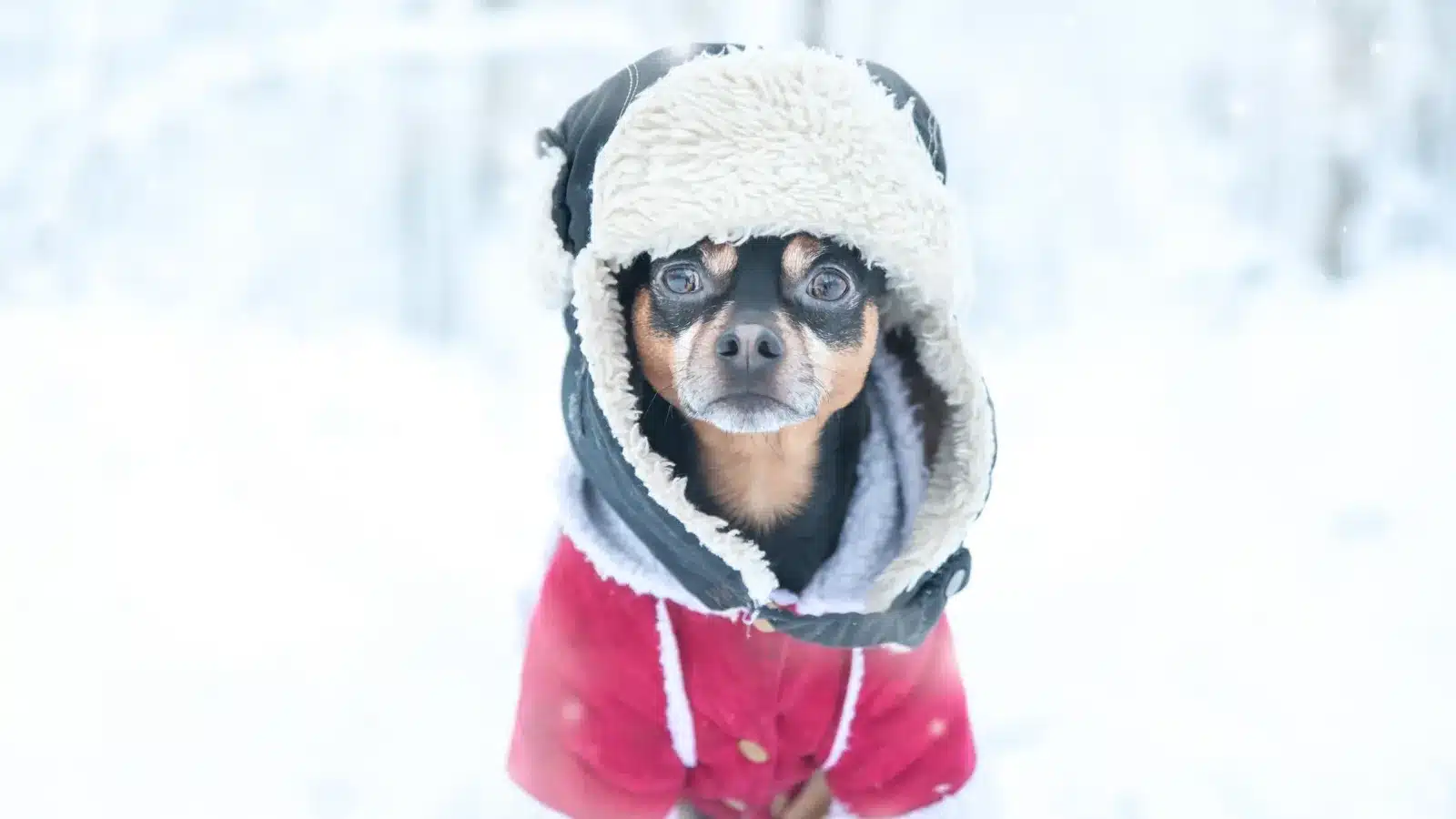 As leaves change color, so does the scene for our four-legged friends. This fall, it's all about staying warm yet stylish.
Knitted dog sweaters are a classic choice, but this year, they're getting an upgrade with bold patterns and colors. Think plaids and stripes in autumn hues like burnt orange and deep burgundy.
Another trend on the rise is weatherproof dog gear. As we brace for wetter months ahead, water-resistant jackets, dog hoodies, and boots are becoming more popular. These items not only protect your pup from harsh elements but also add a dash of style.
If you want to get adventurous, consider adding some bling. Embellished collars or harnesses can give that extra sparkle while ensuring your dog's comfort and safety during outdoor adventures in cooler temperatures.
Essential Fall Dog Accessories
Fall is the perfect time to update your pup's style. This season, it's all about functional yet fashionable dog-friendly accessories.
Harnesses and leashes are must-haves. They let you keep control during those leaf-chasing moments but can also showcase your collection of fall colors and patterns.
The dog bandana, however, steals the show this autumn. It adds a dash of pizzazz without compromising comfort. Look for rich tones like burnt orange or burgundy to embrace the season.
Last but not least: bow ties. Yes, they're as adorable as they sound on dogs and perfect for special occasions – think Thanksgiving dinner with family.
Caring for these items? Simple washing should do most of them justice; follow any specific instructions manufacturers give.
Dog Bathing Suits for the Fall Season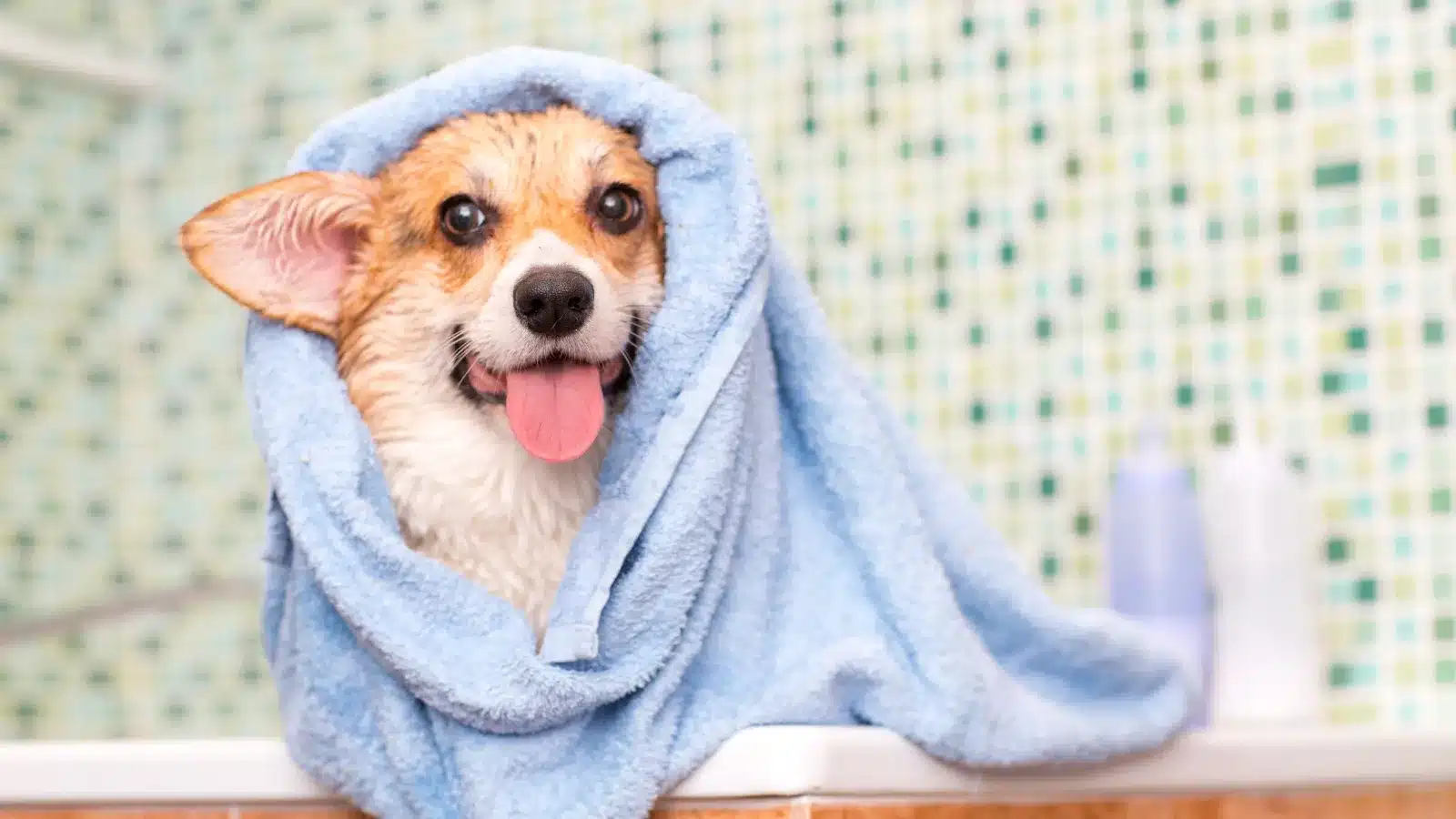 When we think of fall, our minds often go to warm sweaters and cozy blankets. But what about our furry friends? As dog lovers at Very Important Paws, we believe dogs deserve to be just as fashionable and comfortable during the fall season, including the mild Florida weather. Bathing suits are appropriate.
Sizing and Fit for Fall Dog Clothes
As the leaves start to change, so should the dog wardrobe. But just like human clothes, dog clothes need to fit right. Too loose and they'll slip off; too snug could be uncomfortable or even dangerous.
Finding the perfect fit starts with measuring your dog properly. Accurately measure your pup's neck, back length, behind the front legs, and chest circumference to ensure the ideal fit.
PetMD has a great guide on this if you need help.
Once you have measurements in hand, consult sizing charts before buying anything. Remember that sizes can vary greatly between brands. Please don't assume that because Fido is a medium in one brand, he will be across the board.
Last but not least, always prioritize comfort over style. Your pooch may look adorable in that pumpkin sweater, but if it's too snug around his middle? It's better left on the shelf.
Care and Maintenance of Fall Dog Clothes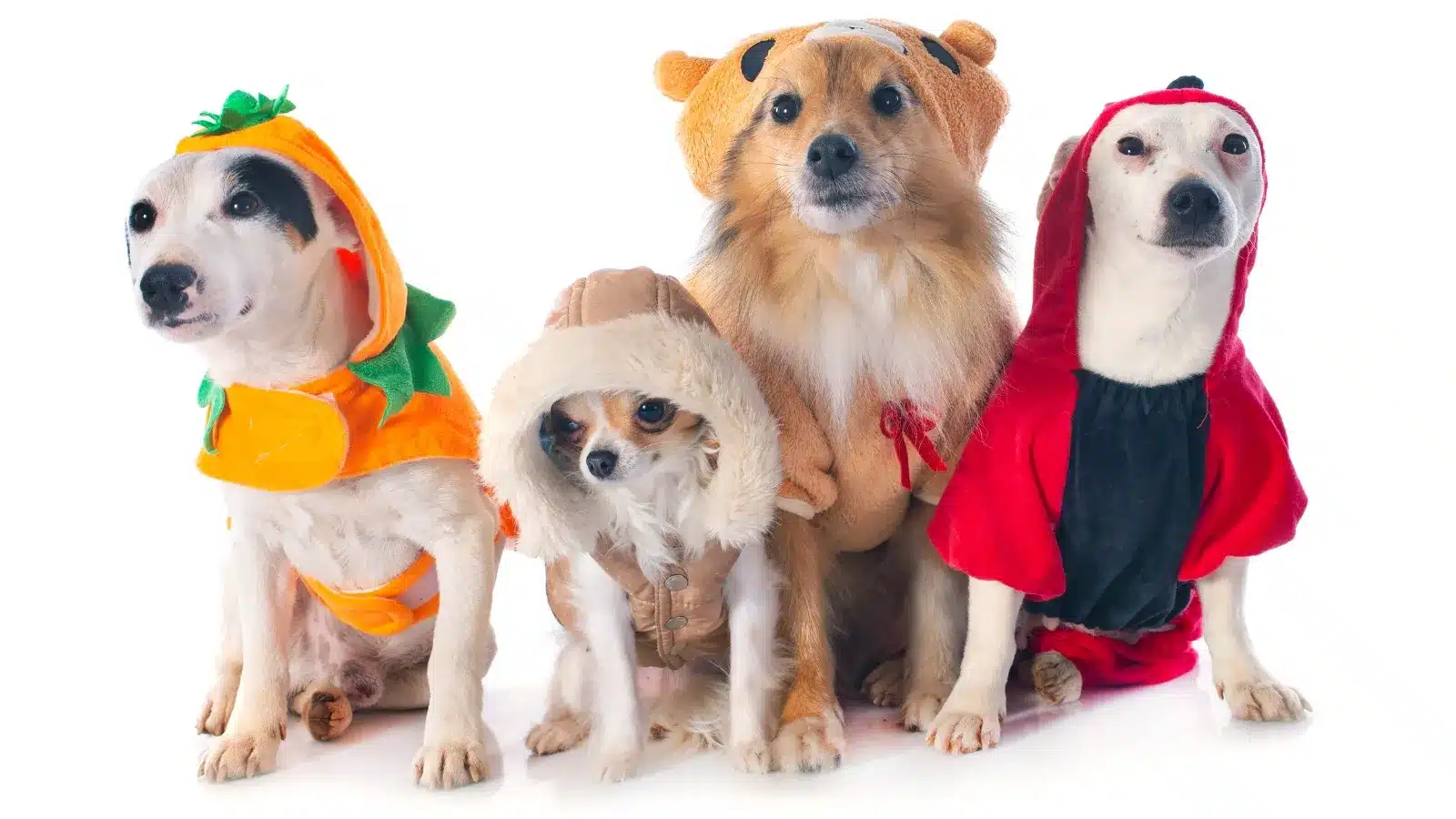 Proper care can extend the life of fall clothes, making them look great season after season. Washing is a crucial part, but remember to check labels for instructions first.
The American Kennel Club suggests hand washing delicate items like sweaters or coats with mild detergent. It helps preserve their quality and prevent damage.
Besides cleaning, proper storage also matters. Keep those cute little outfits in cool, dry places to avoid mold growth when not in use.
Last but not least: regular inspection. Check your coat for loose buttons or threads that might pose choking hazards before dressing up your pup again.
Where to Buy Fall Dog Clothing
Tracking down the right dog apparel for your puppy during fall can be an easy task, both in terms of searching and getting out into nature. Both online and physical stores offer a plethora of options.
Chewy is an excellent online hub and shop that provides trendy dog outfits with diverse styles fitting for autumn's chill. They give fast delivery too.
If you're more into personal shopping experiences, pet boutiques like Petco let you see and feel items before buying them.
A crucial part when shopping is ensuring clothes are stylish dog outfits for fall and comfortable. Look for quality fabrics like cotton or fleece, which provide warmth and allow easy movement.
DIY Fall Ideas
Fall is a perfect time to experiment with your pup's wardrobe. So, why not give DIY projects designer dog clothes a try? You don't need to be an expert tailor for this; simple no-sew ideas can also make your dog look stylish.
Dog clothes patterns are readily available online and range from basic to more intricate designs. For instance, you could use old flannel shirts to create cute bandanas or repurpose sweaters into cozy dog vests.
When crafting these items, remember the importance of comfort alongside fashion. Choose fabrics that keep your furry friend warm but let them move freely.
Making fall fashion pieces for your pup is fun and practical – it keeps them snug during chilly walks and adds flair to their appearance. Who knows, they might even become the talk of the neighborhood.
Considerations for Dog Comfort and Safety in Fall Fashion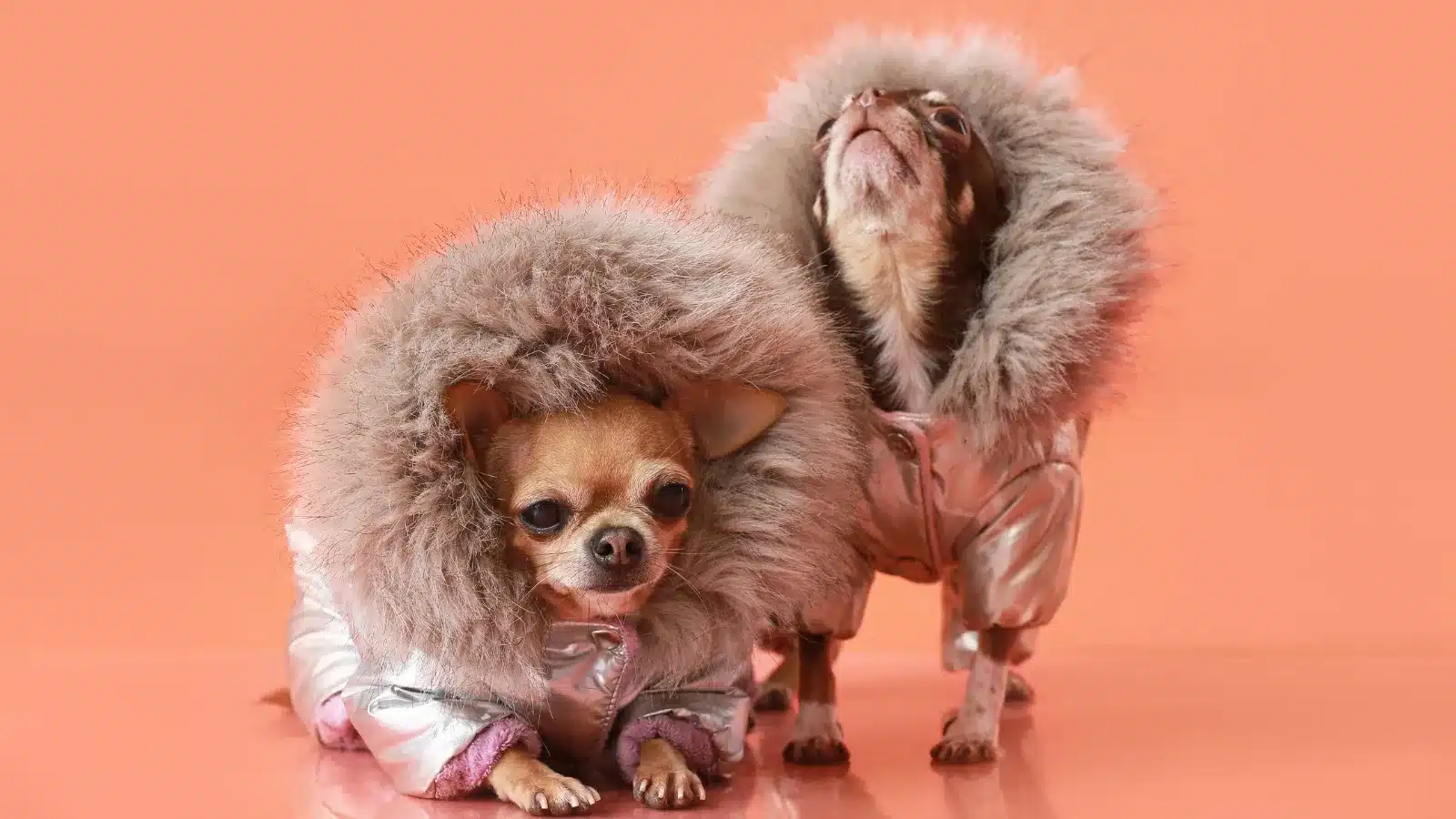 When dressing your furry friend up this fall, it's vital to prioritize their comfort and safety. Choosing the right fabric is a big part of that.
Cotton or fleece are often great choices because they're soft, breathable, and provide warmth. But you also need to ensure the clothes fit well – too tight can restrict movement, while too loose may trip them up. So, measure your dog properly.
Besides size and material considerations, always check for small parts like buttons that could be a choking hazard if chewed off. Watch for signs of discomfort when your pooch is dressed up; if they seem unhappy or distressed, ditch the outfit immediately.
FAQs
Is it OK to dress dogs in clothes?
Dressing dogs is fine if the clothing doesn't restrict movement or cause discomfort. It's also a good idea to purchase something for certain breeds in colder weather.
Are dog clothes uncomfortable for dogs?
Nope, if they're correctly sized and designed with comfort in mind. Always check your pup seems relaxed and can move freely when dressed up.
Should you dress your dog in winter?
You bet. Particularly small, short-haired breeds who feel the cold more acutely. Sweaters and jackets provide them extra warmth during chilly walks.
Should you put clothes on dogs?
If it's comfortable clothing that is not too tight or irritating their skin, then sure thing.
Conclusion
We've uncovered the latest trends, from cozy sweaters to adorable bandanas. Your pup will be turning heads this season!
Lastly, humans prioritize comfort over style when dressing up their doggy companion because they deserve nothing less than paw-fection!
Contact Very Important Paws today in Palm Beach for our prices on all your dog training, grooming, daycare, hotel, and boarding needs.