Blog

Fun Dog Costume Ideas for Halloween

With Halloween quickly approaching, it is time to look at dog Halloween costume ideas. If you only dress up your dog one time per year, Halloween is the best choice, as you can get creative. Or, if your pup already occasionally wears sweaters and other items throughout the year, you can use it as a chance to stand out. Luckily, the sky's the limit when it comes to fun dog costume ideas for Halloween. To get you started, we've rounded up some of the best ones that will make your pup the star at his dog daycare in West Palm Beach.

A Hot Dog or Another Play on Words
One of the simplest yet fun dog Halloween costume ideas is to use a play of words. For example, turn your dog into a hot dog for Halloween. Adding a word before their species adds a bit of fun. You get bonus points if you have a Dachshund or Wiener dog.
You can also create a costume that's a play on words based on your pup's name. So, if your dog's name is Cookie, dress them up as a cookie. Of course, that will only work for certain names.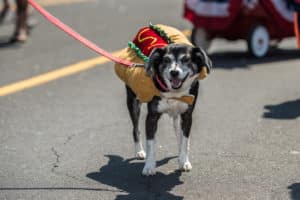 Martini Dog
Turn your pup into a signature cocktail on Halloween. You'll only need a few items to recreate the look—most importantly, the cone of shame. The olives can be made with items you probably already have around the house such as foam or ping pong balls.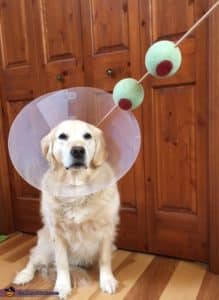 A Delivery Driver
Whether your pet loves your mail carrier or isn't a fan, this costume is too funny! You can find plenty of costumes for sale that will make your pup look like they're delivering a package.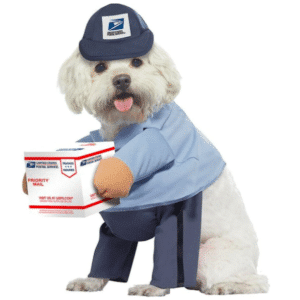 A Bat
Do you have a black dog and want a simple yet cute costume? Turn your dog into a bat! You can easily find bat wings for dogs for sale, or you can even make your own.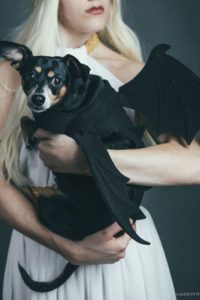 A Butterfly
A simple variation of the bat costume is a butterfly costume. These are incredibly similar, but the wings on the butterfly costume will be more colorful. As with bats, this is one of the best dog Halloween costumes that you can make if you want.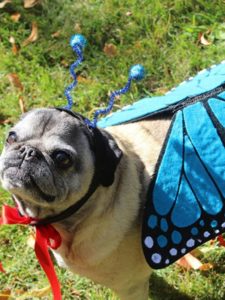 A Lion
If your dog tolerates things on its face but doesn't like things on its back, then consider getting a doggie lion mane to turn him into a lion. This works especially well for tan-colored dogs.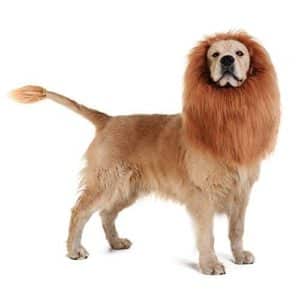 A Cup of Coffee
Another creative option is to turn your pup into a latte or cup of Coffee. Cover a small trash can with white paper or board, then draw on it to create the coffee cups from your favorite coffee shop. For bonus points, dress your dog up in a pumpkin outfit and make them a pumpkin spice latte.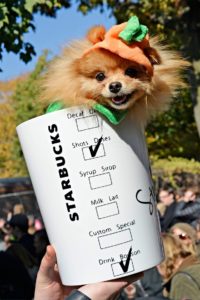 Sushi
All eyes will be on your sushi dog if you visit a dog-friendly West Palm Beach location on Halloween. There are multiple sushi costumes available just for dogs. Some even include cute hats as well as a part that goes over their body.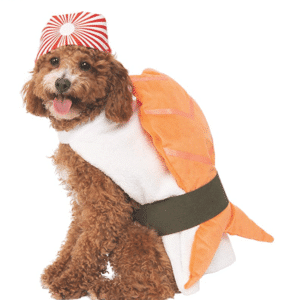 Sources:
https://be.chewy.com/diy-dog-costume-ideas/
https://www.costume-works.com/molly-the-martini.html
https://www.thepioneerwoman.com/holidays-celebrations/g33383101/funny-dog-halloween-costumes/
https://www.womansday.com/life/pet-care/g1653/dog-halloween-costumes/
https://www.countryliving.com/life/kids-pets/tips/g1913/pet-halloween-costumes/