Blog

Healthy Dog Food Toppers for Picky Eaters

Whether you give your dog kibble or wet food, adding something to the top of the bowl can make it much more appealing and nutritious for your pooch. You won't have to buy specific dog food for picky eaters, as you can just add a topper. 

The following are some of the best dog food toppers worth considering, whether you have a picky dog or just want to improve pet nutrition.

Toppers from Your Kitchen

You likely have some great dog food toppers options in your own home, so consider adding some of the following to your pup's next meal:
Bacon (or turkey bacon)

Beef, chicken, lamb, or turkey (ground)

Blueberries

Carrots (grated)

Cheese (low-sodium and grated)

Eggs (hard-boiled, with or without some shell)

Fish oil

Flax seed oil

Liver treats (ground up)

Nori

Pure pumpkin (canned)

Sardines or mackerel (canned)

Spirulina

Low-sodium stock (veggie, turkey, or chicken)

Vegetables (steamed and diced)

Yogurt

Zucchini (sauteed)
Or, if you prefer, you can simply buy one of the following toppers:
The Honest Kitchen Turkey & Pumpkin Stew Wet Dog Food Topper
Pumpkin is a popular add-on for dog food, and this topper takes it to the next level by also having turkey in it. This is a human-grade pourable stew that features pumpkin, pureed apples, and cage-free turkey.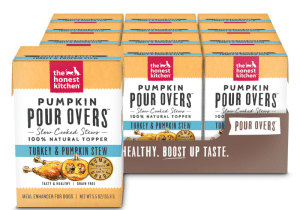 Jinx Freeze Dried Salmon Dry Dog Food Topper
What dog can resist salmon? This topper is a favorite of furry friends because the salmon was freeze-dried and, therefore, still smells and tastes like fresh salmon. Meanwhile, any animal lover or pet parent will appreciate the lack of artificial flavors, colors, preservatives, additives, and fillers.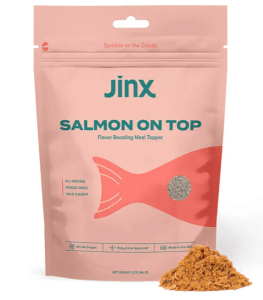 Open Farm Beef Bone Broth
This is a versatile option popular among pet owners and staff members at pet boarding alike. It is safe for dogs or cats, so you can easily use it in a multi-pet household to liven up everyone's food. This bone broth is made from chicken, beef, and turkey, and the ingredients are ethically sourced. You'll also notice other high-quality superfood ingredients, such as cinnamon, turmeric, parsley, pumpkin, and carrots. Meanwhile, you won't find any additives such as soy, wheat, corn, or grain.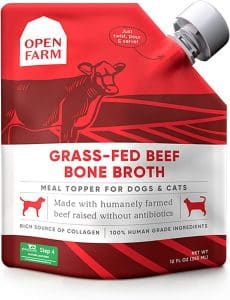 Portland Pet Food Company Homestyle Variety Pack Wet Dog Food Topper
As wet toppers, these tasty add-ons can almost turn dry food into wet food. This makes them a great choice for pups who tend to only want wet food but need dry food for dietary reasons or because of cost. This dog food for picky eaters can add flavor to boring meals and is made from human-grade, natural ingredients.

Primary Pet Foods Goat Milk+
Like the bone broth from Open Farm, this is a delicious way to enhance dog food and add moisture to your pet's meal. Use it to turn prescription dry food into a delicious meal. Or add it to wet or dry food to ensure your pup gets enough fluids. While this topper's main ingredient is goat milk, it also features apple cider vinegar and cranberries to maintain your pup's urinary tract health.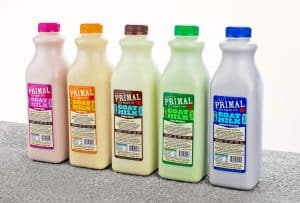 Vital Essentials Freeze Dried Toppers
This is just one of many freeze-dried toppers that your canine will love. It is also extremely versatile, as you can add it to food while dry or mix it with water. Adding water will turn the freeze-dried beef into gravy or even a pate. Best of all, your cats will also love it, so all your furry friends can get the same topper.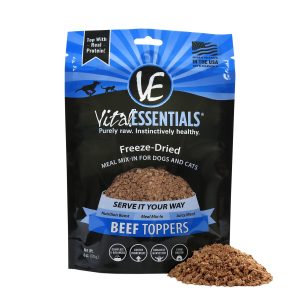 Conclusion
Dog food toppers are an excellent way to make your dog's food more exciting and flavorful while ensuring your pup has a balanced diet.
Sources: