Blog

Dog Daycare West Palm Beach

Have you ever looked into the hopeful eyes of your dog as you rushed to the drop-off before work and wished for a better option? A Premium Doggie Daycare in West Palm Beach, FL 33401, might be the answer.

Picture this: A place where tails wag non-stop, where fetch is more than just a game, but an event. Imagine leaving your four-legged friend in safe hands while you conquer the day's challenges.

Intrigued?

This guide will help navigate those 'ruff' decisions about doggy daycare services. We'll explore top-rated centers, dive into what makes them unique, and arm you with crucial factors to consider when choosing one for Fido.

And there's more… What if I told you that care could also play a role in behavioral training?

The opportunity awaits…
Comprehensive Guide to Dog Daycare in West Palm Beach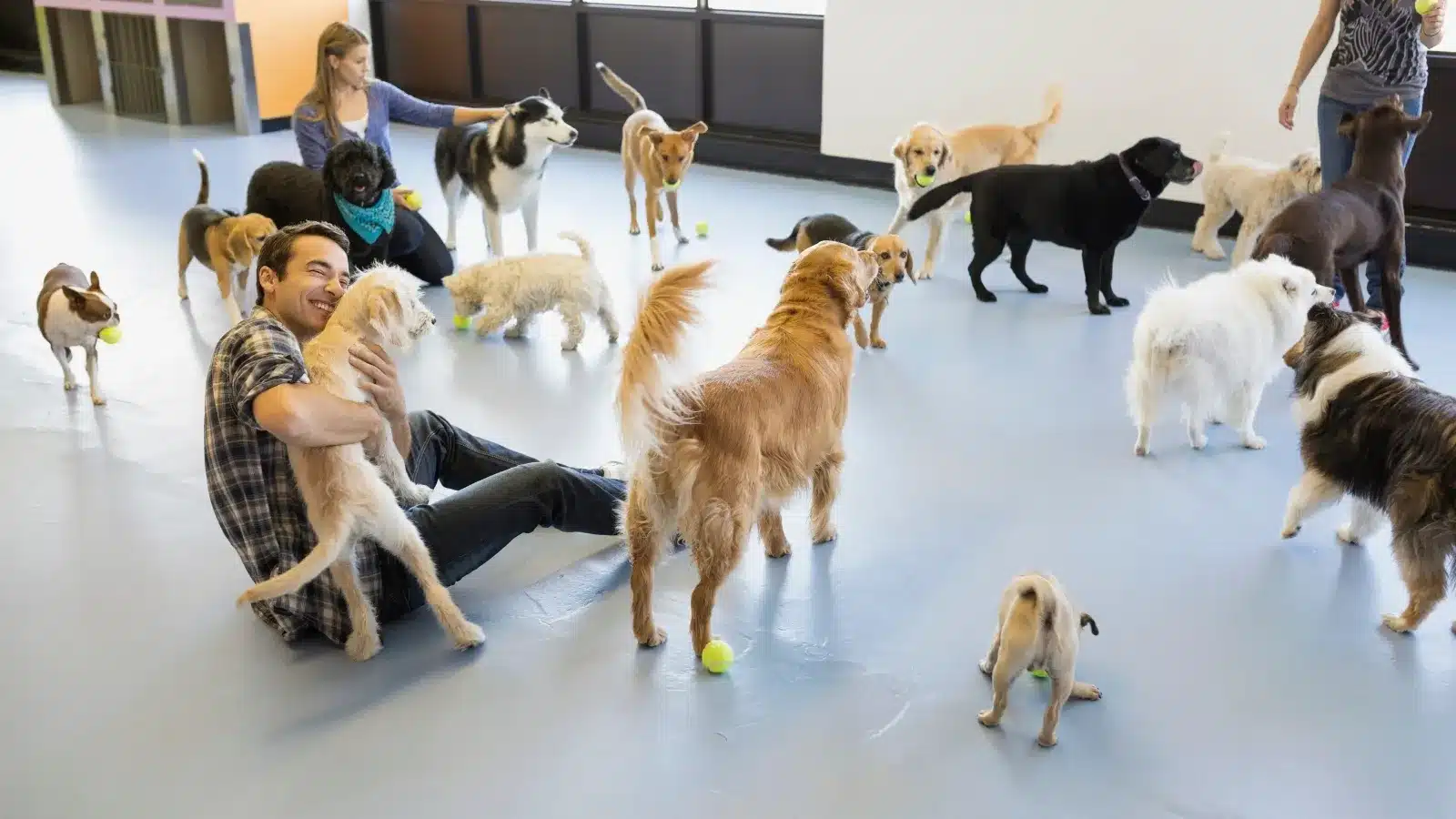 If you're a dog parent living in West Palm Beach, FL, 33401, your fur baby is likely more than just a pet. They are family. So naturally, when life gets busy or travels take you away from home, finding the best dog care and boarding for your canine companion becomes paramount.
Very Important Paws, one of the top-rated dog daycares in town, offers various services such as grooming and training alongside their care service. But what makes them stand out?
What Makes A Top-Rated Center?
A top-notch dog hotel isn't just about having space for fur babies to play. It's about providing enriching activities that stimulate both body and mind while ensuring safety and comfort.
The VIP staff does a wonderful job of supervising and interacting with the dogs, enhancing their social skills during group play sessions. This attention helps reduce stress and improve overall positive behavior – something every owner can appreciate.
Doggy Health Matters Too
Cleanliness matters, too. At facilities like VIP Dog Daycare Center, we maintain high hygiene standards to keep our furry friends healthy.
Veterinary professionals recommend regular visits to dog daycares. Why? Because active dogs are healthier pups. And let's face it: A tired dog equals a happy owner, too.
The Practical Side Of Things
For busy dog parents, care centers like VIP are a boon. They ensure your pet is well cared for while you're at work or away—no more guilt about leaving Fido alone.
But remember, finding the right fit for your pup's personality and needs is essential. So, research, ask questions, and visit potential daycares before deciding.
Top-Rated Dog Daycare Centers in West Palm Beach, FL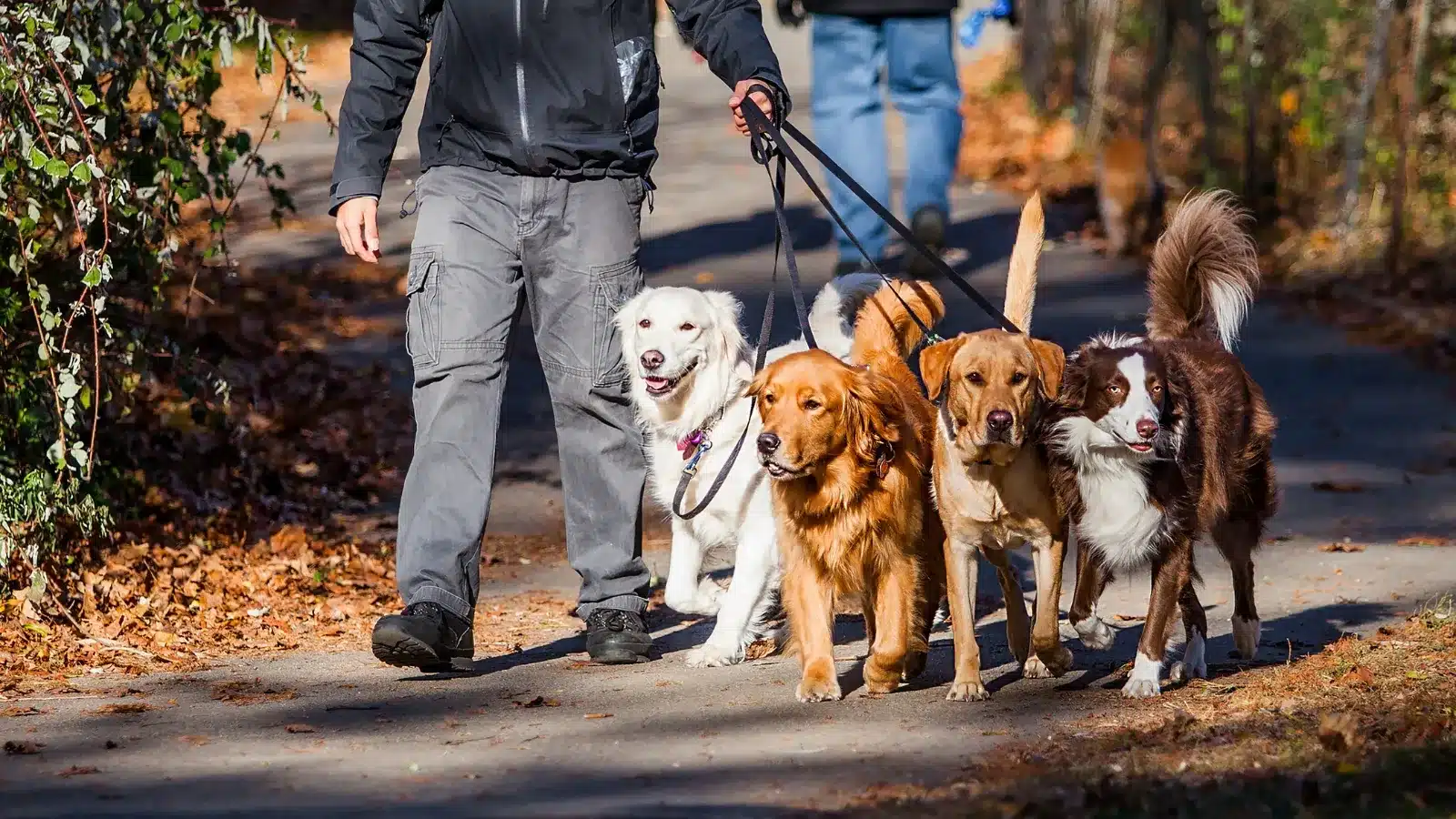 VIP is a highly-rated local favorite for those in West Palm Beach, FL, seeking superior dog care centers. These facilities are dedicated to providing the high-quality care and attention your dog needs.
Very Important Paws (VIP) is a local favorite with stellar reviews. This place goes beyond daytime pet sitting; it offers boarding, grooming services, training classes, and even a fancy pet hotel.
They pride themselves on their luxury accommodations that make dogs love being pampered while owners are away at work or traveling.
Their trained pet sitters are equipped to handle all breeds and temperaments.
They have 24/7 supervision, ensuring safety around the clock.
The pet paradise features separate play areas for large and small dogs so every pup gets appropriate socialization time without fear of being overwhelmed by bigger buddies.
Our establishment holds its staff members to high standards regarding qualifications and experience – this isn't just about keeping your pup entertained but also about supporting healthy growth through quality interactions with humans and other pets alike. So next time you need someone trustworthy to look after Fido during the day, remember – these top-rated places.
Factors to Consider When Choosing a Dog Daycare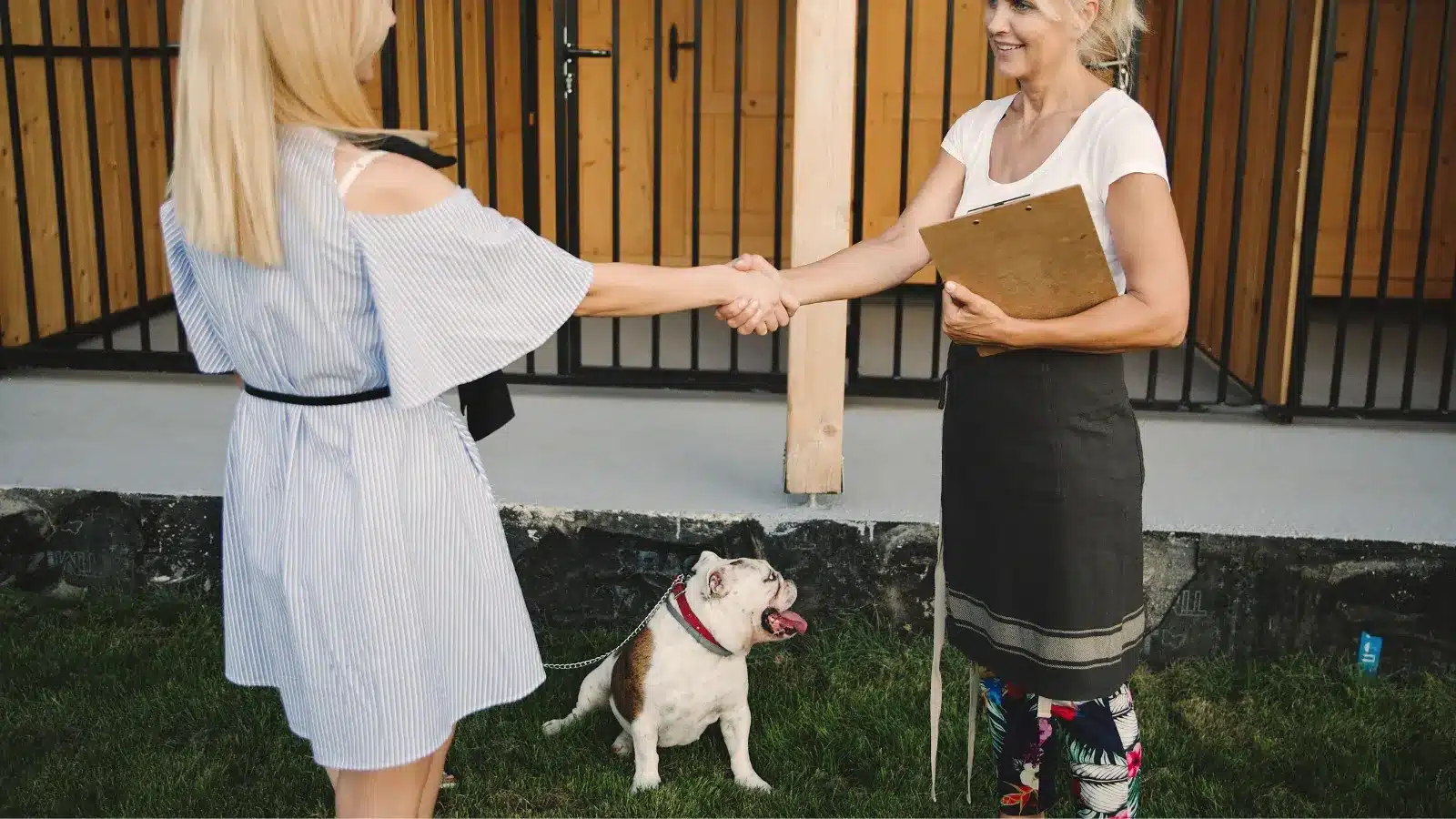 Selecting the right dog care in West Palm Beach, FL, requires more than just a quick Google search. It's about understanding what makes an excellent care environment for your dog.
Staff Qualifications and Ratios
The quality of staff at any daycare is critical. They need knowledge of canine behavior, health issues, and handling emergencies. But also consider staff-to-dog ratios – you want enough hands on deck to give individual attention according to AKC guidelines.
Cleanliness of Facility
A clean facility indicates that management takes hygiene seriously. Regular cleaning helps prevent the spread of diseases like kennel cough or parasites.
Socialization Opportunities
Dogs are social animals; they thrive on interaction. Check for ample playtime with new friends, contributing to their mental well-being.
Fitness Programs
Beyond mere playtime, does the center offer fitness programs? Dogs require regular exercise, not just socializing.
Evaluation Process
An adequate daycare will have an evaluation process in place as recommended by APDT (Association of Professional Dog Trainers). This ensures compatibility between all attending pups.
Remember: every pet has unique needs, so keep those front and center when deciding.
The Role of Daycare in Behavioral Training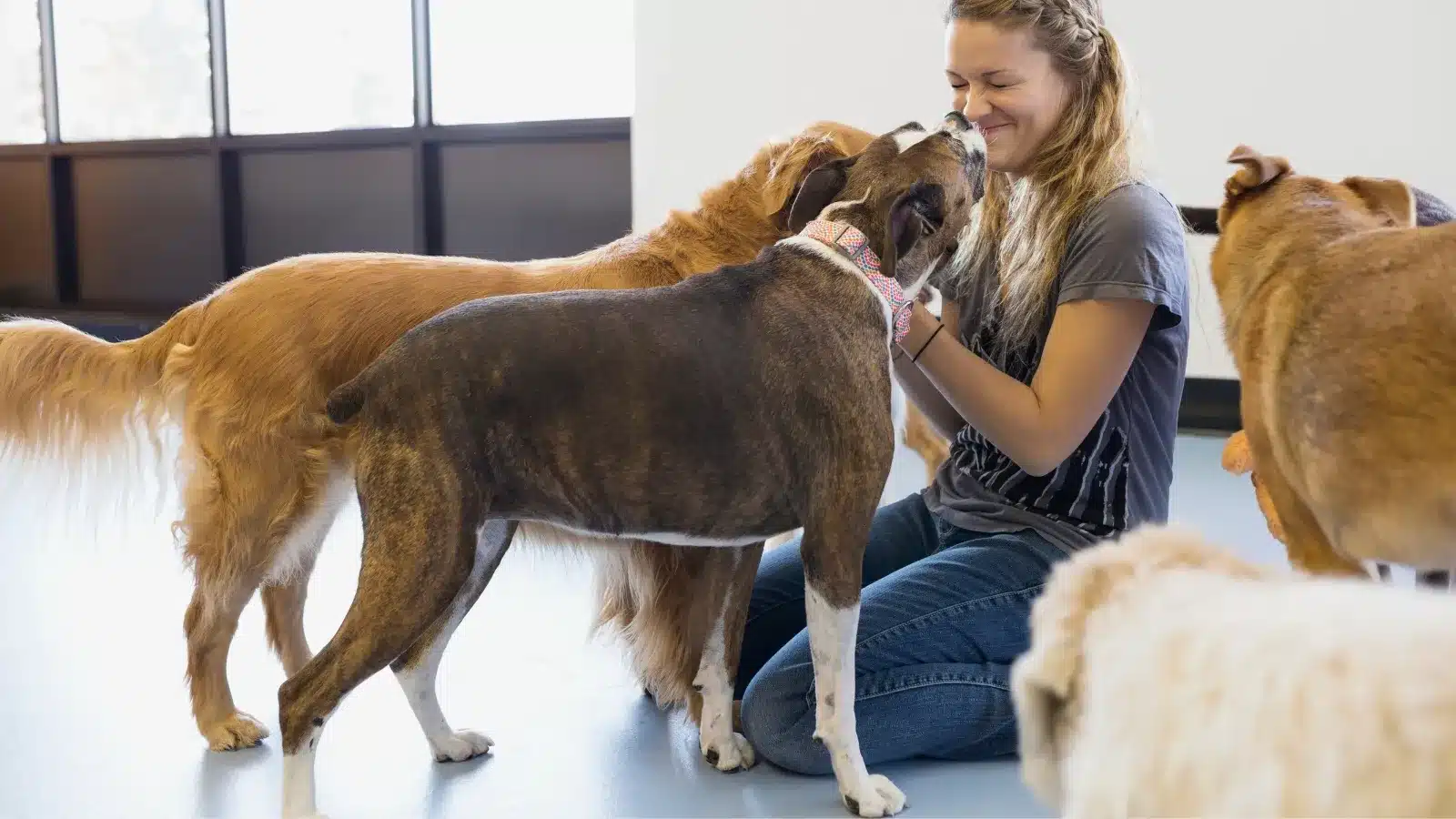 Daycare plays a vital role in behavioral training. It's not just about keeping your pet entertained while you're at work, but it also helps them learn crucial social skills and obedience.
Social Skills Development
Dogs interact with other pets at care centers like Very Important Paws under supervised conditions. This exposure is invaluable for teaching your best friend to behave around their peers.
Puppies can benefit from this experience as they learn essential canine etiquette, such as understanding social interaction when another dog wants to play or to be left alone.
Obedience Training Enhancement
Besides fostering social skills, daycares often offer professional training services reinforcing obedience commands. Consistent reinforcement during the day complements what you practice at home.
This support gives your furry friend more chances to understand and follow instructions, improving overall behavior.
Mental Stimulation and Exercise
Did you know they tend to act appropriately when a canine is worn out? Mental stimulation combined with physical exercise offered by these facilities contributes significantly towards curbing destructive behaviors born out of boredom or excess energy. From interactive games to agility courses, pups are engaged throughout the day.
All these elements ensure that attending a quality care facility isn't just a fun place for Fido – it's an important part of their ongoing education.
Benefits of Dog Daycare for Busy Owners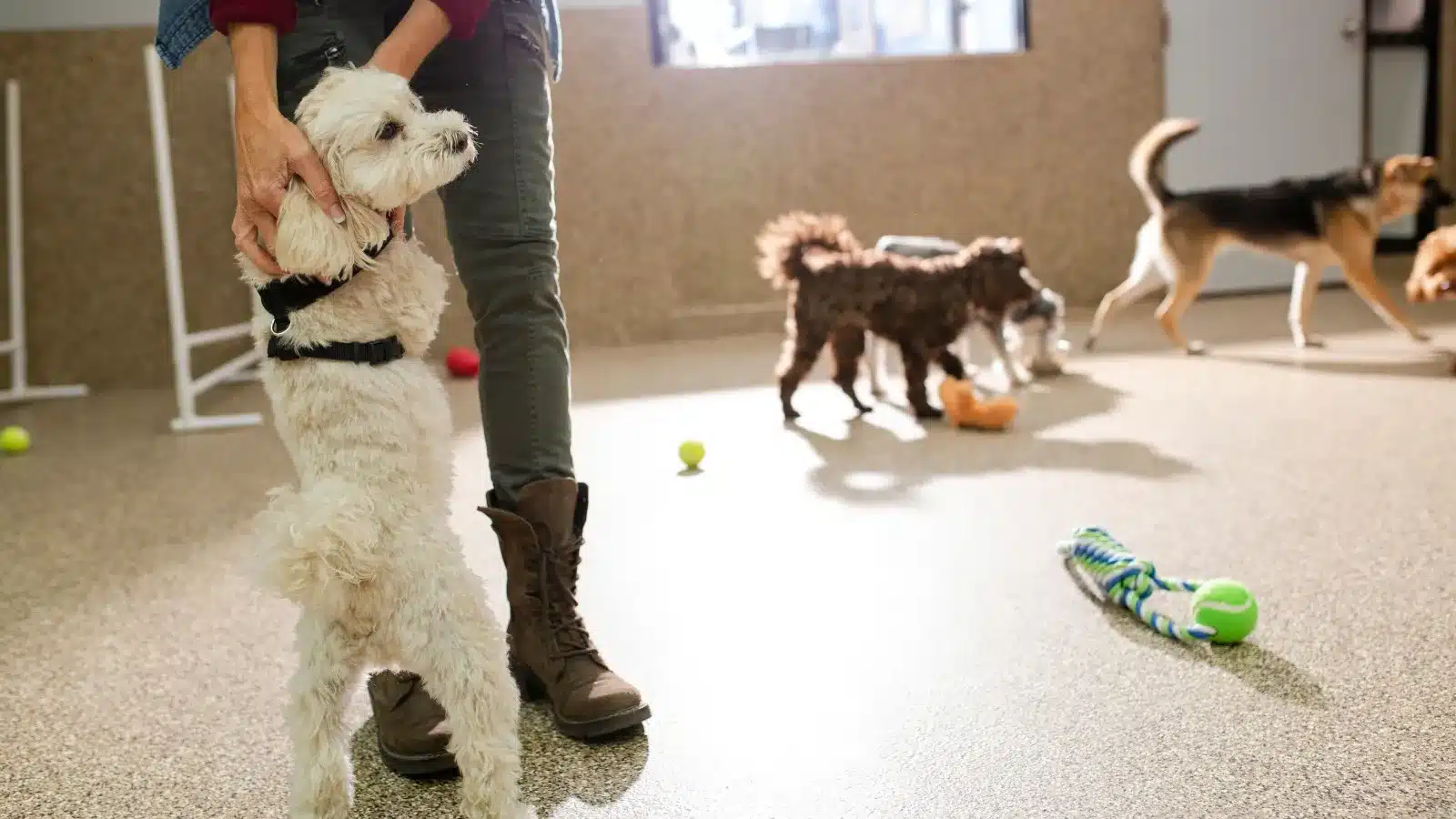 If you're juggling a busy schedule, the advantages of daycare can be a game-changer. But what makes it so beneficial?
A Safe Haven While You're Away
No more guilt about leaving your furry friend alone at home while you work or travel. Dog daycare and boarding like Very Important Paws give your pet an environment filled with fun and companionship.
This setup lets them socialize with other dogs under professional supervision. It's a fantastic way dogs are treated to ensure they get their daily playtime.
Frees Up Your Time
Daycare also saves you time on tasks like walking or grooming your pooch – essential chores that can add up over the week. Services offered include bathing to nail trimming, freeing up hours in your busy schedule.
Promotes Good Behavior
A well-exercised puppy is typically better behaved because they've had an outlet for all that energy. Plus, many facilities offer training programs and grooming alongside regular care, which could help fix those little quirks Fido has developed recently.
Peace Of Mind For Pet Parents
The reassurance of knowing someone trustworthy is looking after our four-legged furry family members brings immense peace of mind. Skilled personnel are qualified to manage crises and can guarantee pets remain secure and content during the day.
Remember: Not every facility will be perfect for all dog parents out there – each has pros (and potentially some cons). So make sure you research before making any decisions.
Potential Drawbacks of Dog Daycare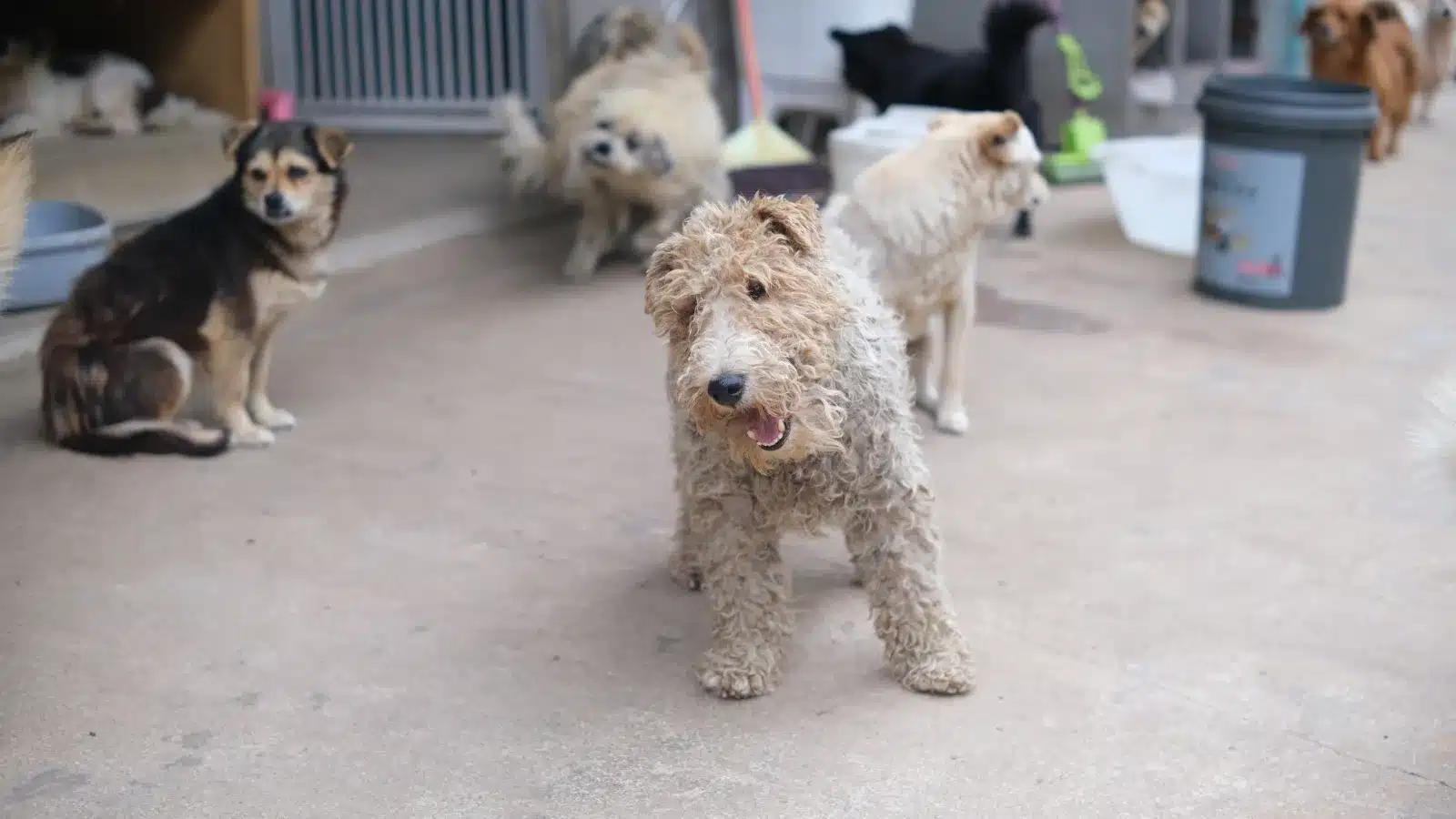 Like any service, care at the West Palm Beach site has downsides. While these facilities can be a lifesaver for busy pet owners, weighing the potential drawbacks is essential.
The Cost Factor
Daycare services aren't always budget-friendly. Regular use can add up quickly and become a significant expense. An Investopedia article on pet ownership costs gives more insight into this issue.
Risk of Illness or Injury
No matter how well managed, dog daycares pose an inherent risk of illness or injury due to increased exposure to other dogs. It's common for pets to come home with minor injuries from playing too rough or catching common illnesses like kennel cough.
Social Stressors for Some Dogs
While many dogs thrive in social environments, others might find the experience stressful or overwhelming. High-energy play all day may also lead to some pups feeling drained rather than energized.
FAQs- Dog Daycare West Palm Beach Location
Should I consider daycare for my dog?
Daycare can be beneficial, providing socialization and exercise. But it's not for every dog.
How much does it cost to board a dog in West Palm Beach?
In the West Palm Beach pet hotel, boarding costs average around $55-$75 for overnight stays, depending on the boarding facility amenities and services, such as grooming.
How old do dogs go to daycare?
Pups can attend daycare when fully vaccinated on the first visit- usually around four months old.
Conclusion
Choosing a doggie daycare in West Palm Beach isn't child's play… It needs thoughtful consideration.
Contact Very Important Paws today in Palm Beach for all your dog boarding, pet hotel, daycare dog boarding, grooming, and training needs.